Best Cheap Bluetooth Band In World – Best Alternative Of Xiaomi Mi Band And Yu Fit Band .
Planning to buy a new Digital tracking band ? But confused between Mi Band And yu Fit ? Then you are at right place . Today we will tell you about a band that is thousands time better then Mi Band and Yu fit Band .
Before going To The post let us understand what bands actually are and what are their uses .
Bands are usually a device that are similar in looks to the ordinary plastic bands , But they are loaded with many extra ordinary features like They can track our health records , can keep watch on the activities we do while sleeping and many features .
okay now without wasting much time lets head over to our guide on Which is the best alternative of Mi Band And Yu Fit .
Best Health Tracking Digital Wrist Band in The World Available Globally Anywhere in The World .
Before Going To The post and revealing the name of the band lets tell you about some of the key features of the band .
Time Display
Sleep Management .
Steps Count .
Calories burned Record .
Screen Displaying your Whatsapp text , simple text and all other text .
Screen Displaying Incoming call with Name and Number .
Miscall Display with name and number .
waterproof
Alarm .
Can Click photos .
Find Your Phone , Mobile tracker .
And Many More features ………………!
Seems interesting ?
okay and the name of the best band in the world is ..
I5 Plus Smart Watch Bluetooth 4.0 Multifunctional Wristband
I5 Plus Band is Undoubtedly one Of the best band in this world , we are saying so because it can do Many task that other Bands cant , Even Great companies like Xiaomi , Yu , Samsung and other companies were also incapable of Providing such amazing features and moreover at such less price tag .
Okay now without wasting much time lets head over to the guide On Best Digital Hand Band in The world .
I5 Plus Smart Watch Bluetooth 4.0 Multifunctional Wristband Detailed review and In Specifications.
The First and Most feature i like about this band is :-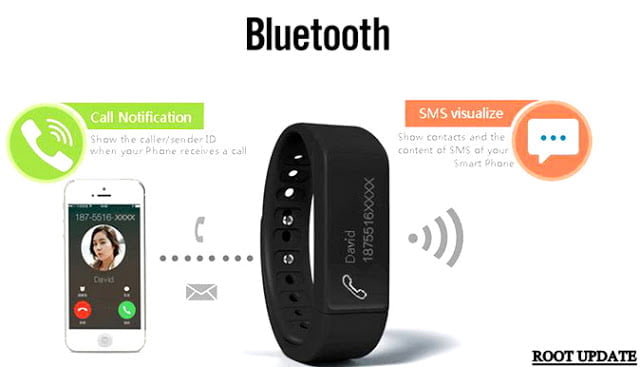 The Best part about this band is That you will be able to see who is calling you with his number And Name displayed on screen .
Not Only the call notification , But you can also see The text you receive from whatsapp , hike or any other platform directly on the band Screen .
So what makes this different and Best among Mi Band and yu fit is its display screen capable of showing the text messages and incoming calls .
In this world of busy life its too much important to keep the uttermost care of our body .
And for that i5 plus is the best solution , it can help you keep on the steps , distance you walked / run , calories your burned and time you took to cover the target and what makes it best band among yu fit and mi band is you don't ll not need to Connect the band to phone for watching the stats the result can be seen on the display of band itself .
These above features lack in mi band and some of the features in Yu fit too .
Many of us dont know that it is also important to track the activities we do while sleeping because the activities we do while sleeping have a direct relation to our mental health and disease .
With i5 plus you can easily keep watch on your sleeping activities , the time when you sleep when you wake up and many more activities can be easily measured by the band .
Now Captures Photo easily
with the help of i5 plus you can easily click images with one single click and , Moreover you can zoom images ,increase brightness , Face detection , Autofocus and many more features .
The Above feature is the feature that is only present in i5 plus , no band in this world carries this feature .

Okay , This is the feature i love the most about this band .
i5 plus can display your texts directly on the screen , Confused ?
Okay lets Discuss in detail , assume you received a whatsapp or a text from your friend but you are in a crowd place or because of any other reason you dont want to pull out the Smartphone from the Pocket then at that situation the i5 plus will really help you a lot , what it will do is it will show up the first 32 characters on the display which will help you to know what the text message actually is . Plus what you get as an advantage is you can select whether you want to answer the message or want to ignore .
The i5 Band Comes with a feature of sedentary reminding which will help you to reach your destination of perform your task always at time , the features makes your band produce voice along with a strong vibration which is no more less then a Big alarm .
its isn't only a Band but it is a Bodyguard of your smartphone also .
With the use of i5 plus You can easily find your phone by tapping a button and after the tap your phone will start ringing even on the silent mode , the mechanism it uses to ring on silent mode is instead of ringing the call alert ringtone it Activates the alarm of your phone and the phone starts ringing .
There are many more features of the band like :-
Water proof
Can receive Ota Updates .
ordinary alarm
and many more ..
You can get the band in three different colours .
Now The main Thing which comes is price Of the i5 plus band
And the price of the band is 17.99 $ dollars which is 1152 indian rupees as of today .
Not only this but we are also giving a coupon code users can apply at the checkout and get a discount at the final price .
Coupon Code :- GBI5P
According to us this is the best band in the world and at this price the features of i5plus are really great and appreciating .
So this was our guide on the best Band in the world expect the Yu fit and Xiaomi mi Band .