Download Mi Account Unlock tool Rar
Mi Account unlock tool Rar is Here and you can Perform Mi Account Unlock tool RAR Download  After Following this Guide. If you are Searching for download Mi account unlocker tool Then you are at right place. From this post you can download Mi account unlock tool rar [Mi Account Unlock tool RAR Download] official version . These are official Mi account unlocker tool to unlock any Xiaomi Mi account and Mi cloud account. Also we have a separate post for Mi Account unlock tool so if you are searching for that in any case you can have a look at that aswell.
Many of you might get confused with Mi Account unlock tool and mi account unlock tool rar, So before we start the actual way and procedure let us tell you what's the real difference between these both terms. So basically there are many users who want to Remove Mi Cloud verification while they turn their phone on So to use that one need Xiaomi Miui Account unlocker tool and the other term means the Format of the file i.e Mi Account unlock tool rar.
So in this guide we will show you the easiest way to remove mi cloud verification from your xiaomi smartphone and also Mi Account Unlock tool RAR Download will be possible after following this Guide. For the Download section you will Find mi account unlock tool download rar and after that we will show you the way to remove Mi cloud verification easily.
Mi Account Unlock tool Rar Download
So if you are using a Mi phone chances are that you might already know what is Mi account unlock tool rar file. Still if you don't know we will give you a short yet brief Description on how does this Miui Account unlock rar tool works and what are the Advantages of this tool.
How to Use Mi Account Unlock tool Rar
Mi account unlock tool rar is basically used to remove mi cloud verification from your Xiaomi smartphone easily. It happens many times when our Phone get's locked due to many reasons and we are unable to recover our smartphone after using all method's. So here is the time where this Tool comes handy and might help all of you.
The best thing about this tool is that even Official centers of Xiaomi use this tool whenever you want to remove mi Cloud verification from your Smartphone. However the thing where difficulty comes is that most of us don't know how to use this Mi account unlock tool rar, So in this Post we will show you the way to install Mi Account unlock tool rar on your windows phone and then after you will be able to Remove Mi Cloud verification.
Mi Account Unlock tool.rar
| Tool | Mi Account Unlock Tool.rar |
| --- | --- |
| Tool Size | 9.4MB |
| Tool OS | Windows |
| Tool Updated | 19/05/2019 |
| Tool Developer | Xiaomi |
Things to Remember before you Start to Remove Mi Cloud Verification
Make sure There is more then 65% battery on your Android Smartphone
Make sure you use this guide only on your Xiaomi Smartphone
Make sure Your device is connected to Internet
Make sure you try this on Xiaomi Smartphone Only, This tool will not work with Any other brand.
The Mi Account Unlock tool rar is supported By Following Smartphones
Redmi Note 3
Redmi Note 4
Redmi Note 5 / pro
Redmi Note 6
Redmi Note 6 Pro
Redmi Note 7
Redmi Note 7 Pro
Redmi Note 3G
Redmi 1s
Redmi 2/2 Prime
Redmi 3/3s/ 3s Prime
Redmi 4/ 4a/4s
Redmi 5/ 5a
Redmi 6/ 6a
Redmi K20
Remove Mi Cloud Verification in Redmi Phones
To Remove mi cloud verification from your Redmi Phone you have to make sure that you have Downloaded Mi account unlock tool rar using the file in Download Section, After that also make sure that you have Red all the pre-requirements before you Remove Mi Cloud verification from Redmi Phone.
First of all Make sure that you have read all the points in Pre-requirements section
Now Download Mi Account Unlock tool rar from Above and Copy it in a New folder on your PC or laptop
After Downloading Extract the Mi Account tool rar.exe as Administrator
Now turn off your Smartphone
Now Boot your Device into Recovery Mode, To boot your Xiaomi in Recovery mode you have to Press and Hold Volume Up+Power Key button together. Release the keys when you see Mi Logo.
Now run the Mi unlock tool Rar on your PC
Now connect your device to your PC using a USB cable
Now Tap on the information tab on Mi Unlock tool rar, As soon as you tap on Info tab you will all the information about your device on the screen.
Now press on the Bypass mi account option.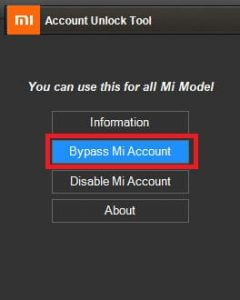 As soon as you tap on Bypass Mi Account Option your Phone will reboot.
That's all!!! This is How you can Bypass Mi Account on your Any Xiaomi Phone
The First Reboot will take More time then usual, However its totally normal.
Bypass Mi Cloud Verification on Xiaomi Redmi Phone
So to Bypass Mi cloud Verification on Redmi Phone You have to follow all the steps that are mentioned below one by One, also Make sure that if you are trying to flash new rom on your Device you have to Download Mi Flash tool and not this one, Installing or flashing a New Rom on Any Xiaomi smartphone requires your PC to be Updated with Qualocmm Drivers. So Now without wasting much time lets's head over to the Guide on How to Bypass Mi Cloud Verification Easily.
Power on Your Xiaomi Smartphone
Now Select your Country and Region
Now Connect your Xiaomi Smartphone to Wifi
Now head Over to Settings on Your Smartphone.
Now, You have to Enable Developer options on your Phone
To Do that You have to Press on Developer option by pressing on 7 times on Miui version.
Now You have to turn off OEM.
After turning off OEM you have to factory reset your Device using KEY Combination.
You have successfully Bypass Mi Cloud verification.
The basic problem about Xiaomi phones is that Unlike any other Brand device they require you to remember Your Miui Account details to Unlock your phone, So it happens many times when we don't Remember our Miui Account so this Guide can Help you to Open Xiaomi Phone without Miui Account.
Xiaomi Just launched the new Redmi Note 7s with Dual camera's at the rear end, So incase if you are Redmi Note 7s user and you forgot Mi password then also you can use this guide.Also Now the Redmi Note  7 will be replaced by Xiaomi in India. Make sure you Read the Guide till end for latest Version of The Tool.
Also New Miui 11 is coming so we have Updated the guide with the Latest working Tool, So even if you update your device to The Latest Miui 11 You can use this guide without any problem.
Also Read:
So this was all about Mi Account unlock tool rar, We hope this Guide Helped you to remove Mi Cloud verification and Bypass Mi cloud. Incase if you have any Doubt feel free to write down in the comments section below.